Roderick and Sandi Rhys Jones have a long history of providing a range of marketing, management, communications and training services primarily in construction, engineering and technology intensive industries.

Since 1976, RhysJones Consultants has worked across all sectors of the construction industry, including contractors, consultants, developers, suppliers, agents, representative organisations, national and local government in the UK, the European Union and internationally

Now, the two founding partners work as non executive directors, trustees and individual consultants, transferring their experience and skills into new areas - the arts, science, law and academia - as well as continuing to work within the built environment. They lead and advise not-for-profit and charitable ventures as well as working with commercial enterprises.

Sandi is currently Senior Vice President of the Chartered Institute of Building becoming President in 2023. The CIOB is the largest international professional body for construction managers and leaders.

Roderick is currently working with ProtonDx, a medical diagnostics spin out company from Imperial College London and is Chairman of the British Antarctic Monument Trust.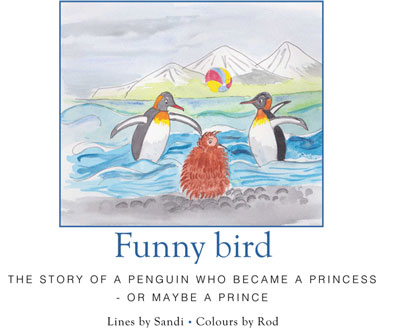 Both Rod and Sandi worked as journalists in their early careers and developed reputations for effective writing and editing skills. Sandi is now working on a number of creative projects expanding her travel and work blogs, poetry and story telling. Rod is completing two travel books and expanding his painting skills to include illustration.

For example, we have recently written and illustrated a rhyming book about king penguins in South Georgia. It is fun and educational and suitable for children between 4 and 10. Notes for grown-ups make sure that you have the scientific facts about these extraordinary birds.

Copies can be ordered from RhysJones directly or through Amazon price £8 +P&P.

Roderick Rhys Jones
In 2021 Roderick was appointed Emeritus Chair of Friends of Imperial College, a charity dedicated to raising the public awareness of science, engineering, medicine and management. During 20 years as Chair, membership has increased tenfold, and its lectures, visits and overseas tours attract capacity audiences. In recognition of this work he was awarded the Imperial College President's Gold Medal.

In 1994 Roderick set up the British Antarctic Monument Trust to commemorate those men and women who lost their lives in Antarctica in pursuit of science. Raising £225,000 the Trust has dedicated a memorial in the crypt of St Paul's Cathedral, and a two part Antarctic Monument outside the Scott Polar Research Institute, Cambridge University and on the waterfront Stanley, Falkland Islands. In 2015 Roderick organised a three week voyage to the Falklands for the dedication of the monument and thence to South Georgia and the many places in Antarctica where the men had lived, worked and died.

He is currently writing books about his experiences as a surveyor in the Antarctic and travelling in North and South America, together with honing his illustrating skills with oil paints and watercolours.

He is active on Twitter, Facebook and LinkedIn.

Sandi Rhys Jones
As Senior Vice President of the Chartered Institute of Building she is particularly keen to support initiatives around sustainability and safety, not only through environmental management and resources but also through increasing the numbers of women and other represented groups in the industry.

Sandi delivers mentoring and management training programmes for a range of organisations and is in demand as a motivational speaker, conference chairman and facilitator. In parallel to her consultancy work, she has built a portfolio of non-executive appointments.

She is an active business blogger, social blogger and tweeter and contributes to LinkedIn.

Her previous experience as a non executive director includes Docklands Light Railway, Simons Group Ltd, EngineeringUK, EnviroBuild Ltd, and Kennington Place Management Ltd. After serving as Deputy Chair of Trustees of the Royal Marines Museum for ten years, she helped deliver a new building for the museum as a member of the Seamore Project Board at the National Museum of the Royal Navy. She was chair of the business development group of the London Mozart Players, the UK's oldest chamber orchestra.

A committed advocate for women's equality and development, she was appointed OBE for her services to promoting women in construction in the Queen's Birthday Honours 1998, received an Honorary Doctorate from Sheffield Hallam University in 2005. She received a First Women of Property award in 2008. In 2015 she was appointed Fellow of the Women's Engineering Society. She was given a Lifetime Achievement Award by Design and Build Magazine at their inaugural Women in Construction dinner 2022.

She devised and delivered an innovative cross-disciplinary mentoring programme for the Association of Women in Property and also led on public affairs including submitting evidence to the All Party Parliamentary Group on Women and work. Having been a journalist early in her career Sandi has continued to write and edit a wide range of publications and books.

Amongst them is a 64 page hard-bound coffee table book South 2015: an Antarctic voyage to remember tells the story of a three week voyage to mark the dedication of the Southern part of the British Antarctic Monument in the Falkland Islands and visit the places in the Antarctic Peninsula where those who died in the pursuit of science lived and worked.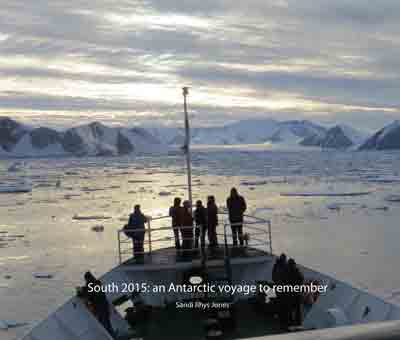 It has received five star reviews on Lulu where it can be purchased or ordered directly from RhysJones price £65 +P&P.